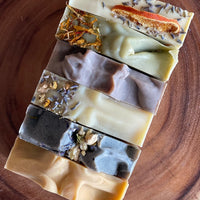 ARTISAN SOAP HANDMADE IN WASHINGTON, DC
All of Tiffany Riffer Soap's artisan products are handmade in small batches using a short list of natural oils and butters. Tiffany prides herself on making natural products that are good for your skin, smell amazing, and may even border on being too pretty to use!
Shop All
Testimonials
I was gifted your soaps and lotion from a mutual friend.... I absolutely love them.  I'm actually super picky about scented soaps and lotions and often find they don't do the trick no matter how much I spend.  I've been using your products for just a few days and I've already fallen in love...  Thanks for making such a great product.  You will be my go to for awesome gifts.

Janeth H.
Best freaking soap ever!!!! The black tea is unreal. I've been using store bought liquid men's soap for years and on a whim I bought a couple bars to help a small business and try out a different soap. I will never go back to any other soap company. My skin feels amazing and smells even better. I suffered from dry skin and itching this soap changed all of that. This is one happy chef!

Joe K.
So impressed by Tiffany's soaps — fragrance, look, packaging. Makes an AWESOME gift. A delight to receive. Love it.

Libby V.
Just got my first soap bar and it smells wonderful. Everything from ordering to pick up to unboxing was a great experience!

Stephanie A.
I've never given a lot of thought to soap but I am SO IN LOVE with Tiffany's product. It's beautiful and the fragrances smell so good! It also sudds well and just feels great on my skin. Thank You Tiffany!

Melanie H.
In this era of "wash your hands" (a lot) it soaps up really well, smells great and even looks good sitting in the bathroom. Just altogether better than plain old bath soap.

Bill R.
Love love love these soaps! They're beautiful, smell fantastic, and feel wonderful on your skin. I'm truly obsessed.

Sarah M.
The best! The smells are so beautiful and fragrant. All shipped super fast too.

Tara J.
I've just received my 3rd order from Tiffany Riffer Soap. Every transaction has been perfect! We've loved all the various soaps we have purchased. Being able to custom pick the various fragrances and bases is a big plus.Our last order was a Tea Tree Oil blend poured in a wood grain pattern. Our favorite so far.

Greg H.
THE FINE PRINT
A NOTE ABOUT HANDMADE ITEMS
The images are for reference only.
These are handmade items.  While I try my best to duplicate batches - it is not always possible to see consistent results. 
Variations, such as coloring and pattern design do happen, and should be expected.  
LEGAL
Regulations set forth by the FDA prohibit bath and body companies from making any health-related claims about beauty products.
Accordingly, nothing on this website or any product description, should be construed as a statement by me that the use of these products will have any effect on pre-existing physical and/or mental health conditions.
The information in these listings pertains to the properties of specific ingredients used in the product, and nothing more.
If skin irritation occurs, discontinue use.
A NOTE ABOUT SHIPPING
Once your order leaves my possession, I have no power or control over the speed by which the carrier delivers your items. In the event orders are delayed, or misdelivered, your first initial remedy should be to contact the carrier.
If that does not result in a suitable resolution, and given that tracked packages are covered by postal insurance, I will file a claim for reimbursement with the carrier on your behalf, and will work to provide replacement items if the package is a complete loss. I cannot offer refunds due to carrier problems.
By ordering from Tiffany Riffer Soap you acknowledge and agree to these terms.