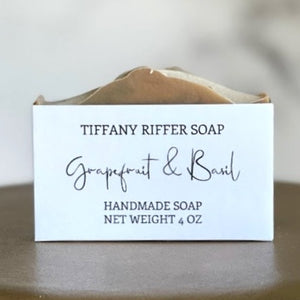 A bright fresh scent with a hint of herbal undertones.  Grapefruit & basil soap is one of my best sellers and perfect year around.  
Ingredients | Olive oil, distilled water, palm oil, coconut oil, sodium hydroxide, cocoa butter, castor oil, essential oil, rose clay, kaolin clay.
How to care for your soap | In order to take the best possible care to extend the life of your handmade soap you can use a draining soap dish that will keep the soap dry underneath.  
Net Weight | 4.0 oz. All bars are cut by hand. Sizes and weight can vary slightly from bar to bar. 
Product Line | Natural.
Love this soap
This soap smells and looks beautiful. More importantly it is gentle on my skin and leaves it feeling clean and soft.